Vietnamese linen ao dai show off your charming beauty. High quality linen fabric, make to order as your measurement.You can mix the pants from this set with other pieces of clothes like shirt or croptop.The pants have two big pocket, and with stretchable string.
Hoi An Linen ao dai in a variety of colors for you to choose from. Unlike other materials, linen is a 100% natural fiber made from the flax plant. This makes you feel comfortable and cool while wearing it.
Ao Dai is known as the traditional costume of Vietnam. However, the tourists around the world love to wear it. They often ask to hand embroider beautiful motifs according to their preferences. The color of linen that we have is also very diverse. You can choose from the attached color palette.
We washed the fabric before sewing. So you don't need to worry that the linen fabric will shrink. Linen fabric is selected from the highest quality fabric. Therefore, our fabric is different from other cheaper fabrics on the market. We sell Ao Dai as a set, and can also sell the shirt and pants separately. About the pants of the ao dai, we sew them in the style of regular trousers. You can wear women linen ao dai  out anywhere. These pants can be combined with a shirt, or a t-shirt.
These shirts are available in all sizes. However, you can request tailoring based on measurements. And we can hand embroider on the linen ao dai, for a small extra charge. If you have any other questions, please don't hesitate to let us know. We are always here to support you 24/24.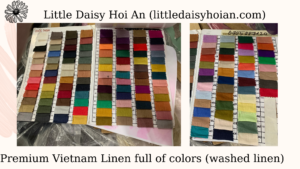 The video below shows you how beautiful our linen Hoi An is: