Inspired by Chinese cheongsam. We've improved it into a beautiful sexy linen cheongsam. Its highlight is the Chinese knot. We have A line cheongsam dress style, or the normal one. With split design on both bottom sides, it is extremely attractive. Every step of the way, you will feel the comfort and flexibility of the dress. We can sew zippers for you to easily put on and take off. 
We are happy to sew according to your requirements. Want a heel-length cheongsam? Or an over-the-knee cheongsam? A line midi cheongsam is our best seller. People love red the most.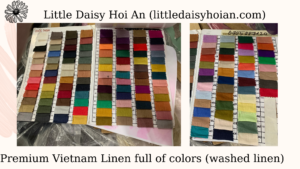 We washed the fabric before sewing. So you don't need to worry that the linen fabric will shrink. Linen fabric is selected from the highest quality fabric. Therefore, our fabric is different from other cheaper fabrics on the market. These cheongsam are available in all sizes. However, you can request tailoring based on measurements. And we can hand embroider the linen ao dai, for a small extra charge. If you have any other questions, please don't hesitate to let us know. We are always here to support you 24/24. 
So if you are looking for a modern cheongsam in any color, please contact us.
The video belows will show you how beautiful our linen is
 Áo dài sườn xám thêu tay Hội An mô phỏng chiếc sườn xám của Trung Quốc. Được may trên chất vải linen cao cấp màu đỏ, họa tiết thêu tay tỉ mỉ, tinh tế. Đường may sắc sảo, thắt nút khéo léo mà bạn chỉ có thể tìm thấy ở các sản phẩm may thêu thủ công từ những người thợ lành nghề nhất.