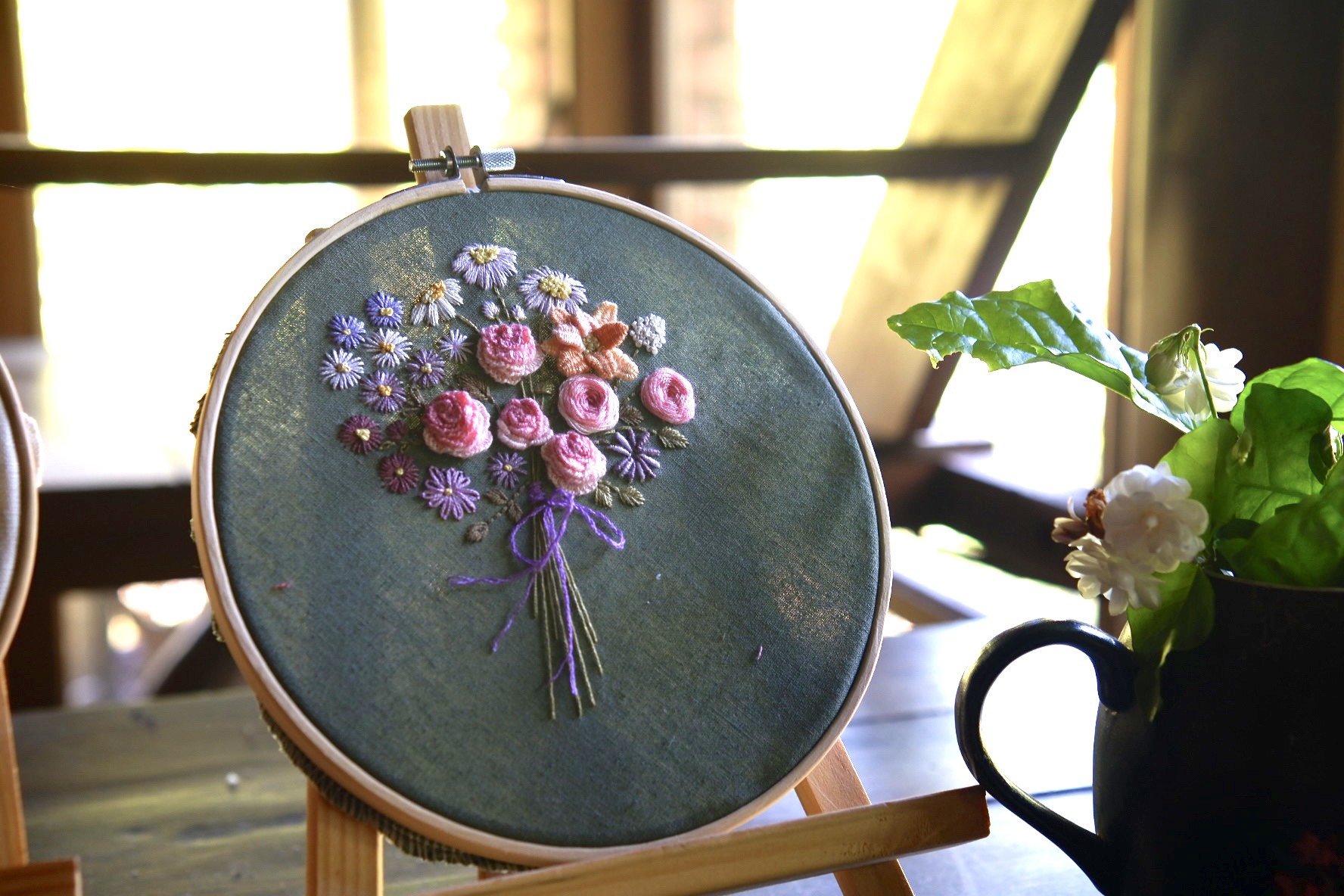 About Course
 Hand Embroidery Course Online
Embroidery is a time-honored craft that has been practiced by people all over the world for centuries. It's a beautiful and versatile art form that can be used to embellish clothing, accessories, home decor, and more. And now, with our Hand Embroidery Course Online, you can learn the art of hand embroidery from the comfort of your own home!
Our course is designed to teach you everything you need to know about hand embroidery, from the basics of choosing the right materials to more advanced techniques like creating three-dimensional stitches. Once you sign up for the course and complete the payment, we'll create an account for you on our online platform, where you'll have access to a range of instructional videos, online assistance, and support.
One of the best things about our Hand Embroidery Course Online is that it's suitable for beginners and more experienced embroiderers alike. If you're new to the craft, we'll start by teaching you the basic embroidery stitches like the backstitch, running stitch, and satin stitch. As you progress, we'll introduce you to more advanced stitches like the chain stitch, stem stitch, and French knot.
One of the great things about embroidery is that it's a very forgiving art form. If you make a mistake, it's easy to undo and start again. That being said, our experienced instructors will be on hand to guide you every step of the way, from choosing the right needle and thread to creating more intricate designs.
In addition to teaching you the basic and advanced embroidery stitches, our course also includes a range of projects that you can complete to practice your new skills. These projects include creating drawstring bags, headbands, handkerchiefs, and more. Our instructors will show you how to apply your new stitching skills to these fun and practical projects.
One of the things that sets our Hand Embroidery Course Online apart from other online embroidery courses is that we cover basic drawing techniques as well. This means that you'll not only learn how to embroider pre-made patterns, but also how to create your own unique designs. This is a valuable skill that you can use to create customized embroidery for clothing, accessories, and home decor items.
Our course also includes detailed guidance on buying the right tools and materials for hand embroidery. We'll provide you with a list of the essential tools and materials you need to get started, including embroidery floss, needles, fabric, and embroidery hoops. And if you have any questions or need help finding the right materials, our instructors are always available to assist you.
Our Hand Embroidery Course Online is designed to be flexible and convenient. You can schedule your study time according to your own schedule, and complete the lessons at your own pace. You'll also have access to online assistance and support from our experienced instructors for as long as you need it. Plus, you'll receive a set of materials to practice embroidery on, so you can get started right away!
All in all, our Hand Embroidery Course Online is an excellent way to learn the art of hand embroidery. With our comprehensive instruction, detailed guidance, and expert support, you'll be well on your way to creating beautiful hand-embroidered products in no time. So why not sign up today and start your embroidery journey? We can't wait to have you on board!
Our Hand Embroidery Course Online was created by Huyen Nguyen, an experienced artisan who has been practicing hand embroidery for years. Her passion for this craft led her to found Little Daisy Hoi An, a company dedicated to promoting and preserving the art of hand embroidery.
Huyen has always been fascinated by the intricate designs and beautiful colors of hand embroidery. Over the years, she has honed her skills and developed a keen eye for detail, becoming one of the most respected artisans in Hoi An, Vietnam.
After many requests from people who were interested in learning this ancient craft, Huyen decided to create an online course that would make it accessible to anyone, anywhere in the world. She worked with the team of Hoi An Artisan – a group of local artisans who share her passion for embroidery – to develop a course that is easy to follow for beginners or advanced learners.
One thing that sets Huyen apart as an instructor is her patience and dedication to her students. She understands that everyone learns at their own pace, and she's always willing to answer questions and provide guidance to help her students succeed.
Huyen's love for the art of hand embroidery shines through in every lesson of our Hand Embroidery Course Online. With her guidance, you'll not only learn the basics of this craft, but also more advanced techniques like creating three-dimensional stitches and designing your own patterns.
So if you're looking for a patient and knowledgeable instructor who truly loves the craft of hand embroidery, look no further than Huyen Nguyen and our Hand Embroidery Course Online. We're confident that you'll love learning this beautiful and versatile art form with her expert guidance.
Show More
What Will You Learn?
Hand Embroidery Stitches From Basic to Advanced Levels
Course Content
French Knot Embroidery Stitch
Mũi Woven spider wheel (nhện giăng tơ) và ứng dụng thêu hoa hồng nổi 3D
Embrodier the branches
3 types to embroider the leaves
Running stitches
Woven stitches
Crochet stitches -Embroider 3D flowers
Bullion stitches
Satin stitches
Long and short stitches
Chain stitches
Some other stitches
Tradition long and short stitches
Embroidery mini projects – Making embroidered gifts
Student Ratings & Reviews
No Review Yet